Richard A. St. Arnauld (1946-2001)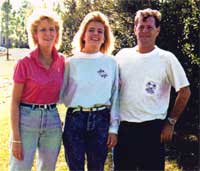 Richard with wife Nancy and daughter Jennifer
(Click on picture to enlarge)
MANCHESTER -- Richard (Dick) A. St. Arnauld, beloved husband of Nancy (Disbrow) St. Arnauld of 373 Meadowbrook Drive, formerly of Jupiter, Florida, passed away suddenly on Tuesday, April 10, 2001, at Manchester Memorial Hospital. Dick just celebrated his 25th anniversary with Pratt and Whitney and was currently employed at the East Hartford plant.
Dick was born in Meriden on Jan. 7, 1946, to Marie St. Arnauld and the late Albert St. Arnauld of Fort Myers, Fla. In addition to his loving wife, Nancy, he is survived by his devoted daughter, Jennifer and her partner, Dennis Pilla of North Palm Beach, Florida; Dick is also survived by his loving family members, brother, John St. Arnauld and his wife, Rita of St. Johnsbury, Vt.; a sister, Susan Rockwell and her husband, Don of Alva, Fla.; Patti St. Arnauld of Virginia and her partner, Michael O'Neill; sister, Nancy Murray and her husband, Dennis of Meriden; a brother-in-law, Ron Disbrow and his wife, Mary of Florida; a sister-in-law, Barbara Disbrow of Meriden; sister-in-law, Janice and her husband, Les Pierce of Meriden; brother-in-law, Gary Disbrow and his wife, Susan of Middlefield; also survived by many loving aunts, uncles, nephews and nieces; and a host of very special friends including, Monty and Kit Dowd of Manchester and many others too numerous to mention. He was predeceased by a daughter, Jessica. Dick will always be lovingly remembered and deeply missed by all those whose lives he touched.
The funeral will be held on Saturday, April 14, at 9:15 a.m. from the John J. Ferry & Sons Funeral Home, 88 E. Main St., Meriden, and at 10 a.m. in St. Joseph Church, corner's West Main Street and Lewis Ave., Meriden. Burial will be at the convenience of the family. Friends may call at the funeral home on Friday from 4 to 8 p.m. In lieu of flowers memorial contributions may be made to the American Heart Association,5 Brookside Ave., Wallingford, CT 06492, or to the charity of one's choice.
As published April 12, 2001 in the Meriden Record Journal, Meriden, CT
---